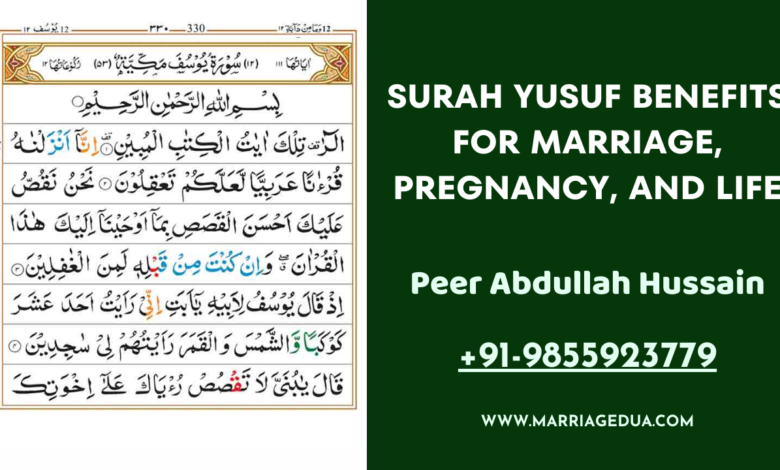 Surah Yusuf, the 12th chapter of the Quran, offers numerous profound benefits for life. It is a story of Prophet Joseph (Yusuf), his trials, and ultimate triumph, imparting timeless wisdom. Learn about the Surah Yusuf benefits in this article in detail. 
Benefits of reading Surah Yusuf in daily life:
1. Moral Guidance: Surah Yusuf illustrates the importance of patience, forgiveness, and integrity. It serves as a moral compass for individuals, encouraging them to uphold virtuous values in their lives.
2. Resilience: The story of Yusuf's perseverance in the face of adversity teaches us resilience. It inspires us to remain steadfast during challenging times and trust in God's plan.
3. Family Values: The surah emphasizes the significance of family bonds and the consequences of jealousy and betrayal. It encourages maintaining strong family ties and resolving conflicts amicably.
4. Dreams and Interpretation: Surah Yusuf highlights the power of dreams and their interpretation. It encourages us to reflect on the messages conveyed through our dreams and trust in divine guidance.
5. Divine Providence: The surah underscores God's control over destiny and His ability to turn adversity into blessings. This reminds us to have faith in His divine wisdom.
6. Forgiveness: Yusuf's forgiveness towards his brothers exemplifies the importance of forgiveness and reconciliation. It encourages us to let go of grudges and seek reconciliation with those who have wronged us.
7. Trust in God: The surah teaches us to rely on God's plan even when faced with seemingly insurmountable obstacles. It fosters trust and reliance on divine guidance.
8. Self-Improvement: Surah Yusuf ki fazilat invites self-reflection, encouraging individuals to strive for self-improvement and personal growth, both spiritually and morally.
9. Guidance for Leaders: The surah provides leadership lessons, showcasing Yusuf's wisdom and leadership qualities when he rose to power in Egypt.
Incorporating the teachings and lessons from Surah Yusuf ki fazilat into one's life can lead to greater moral integrity, resilience, and a deeper connection with one's faith, ultimately enriching one's life and relationships.
Benefits Of Surah Yusuf For Marriage
The most beautiful thing about marriage is that it is a union of two people. This union ties a man and woman in a commitment of a lifetime. The people who get tied in this commitment should always try to make it successful. This can be done only by those who understand the importance and benefits of Surah Yusuf for marriage.
Prophet Yusuf's life teaches us how the suffering of life in leads to good things in life. This is why people struggling in getting married should learn the benefits of Surah Yusuf for marriage. The institution of marriage is a very delicate relationship that has its ups and downs. The Surah Yusuf wazifa for marriage problems is a way to deal with these ups and downs with unity. Marriage is one of the most important relationships in a Muslim's life. And Surah Yusuf ka amal is a prayer that helps in always keeping this relationship happy and full of love.
Related Post: Dua For Love Marriage
Surah Yusuf Ayat 30 In English
The Surah Yusuf is a prayer that is a combination of total 111 ayats. The 30th ayat of Surah Yusuf teaches us a very important lesson. You can resolve your marriage-related issues by reciting Surah Yusuf ayat 30 in English, Hindi, or Urdu. This verse of the surah Yusuf is considered one of the best surah Yusuf wazifa for marriage.
Another alternate to Surah Yusuf ayat 30 in English is the Surah Yusuf ayat 80. It is a great wazifa or Islamic prayer that helps people in getting married very soon.
Surah Yusuf ayat 30 wazifa for love or marriage is read when a person faces a lot of problems in finding a good marriage proposal. People who are getting proposals but not getting the one they expect the most should definitely read the Surah yusuf Ayat 21 wazifa.
Surah Yusuf Ayat 21 Benefits
Apart from reading the surah yusuf wazifa for marriage, people also read the surah Yusuf ka amal. This is one of the most beneficial prayers that are read for solving problems of life. The Surah Yusuf Ayat 21, 80, and 86 wazifa benefit a person's personal life immensely.
For any problem a person is going through in their life, they should read the Surah Yusuf ka Amal. It teaches us all about the life of Prophet Yusuf and how much did he suffer in his life. This teaches us the lesson that no problem is big enough to lose hope in life.
Regularly reciting the Surah Yusuf ayat 21 wazifa will also help a married couple in always keeping the romance alive between them. Surah Yusuf ayat 86 benefits them in keeping the spart alive in their married life.
Surah Yusuf Wazifa for Marriage
The Surah Yusuf benefits are also seen when a person feels protected in their life. It is among the best methods for shielding a person's family from the damaging effects of black magic or the evil eye. The people who try to harm others because of their jealousy often use black magic for this purpose. This Surah has the power to radiate powerful energy field that protects people from all harm.
To know how to use Surah Yusuf wazifa ayats to make your own life better, you can contact our Maulvi Sahab. He will help you with his expertise with the knowledge of the Holy Quran to make your life better with Quranic remedies.
Surah Yusuf Benefits For Baby Boy
Surah Yusuf holds significant blessings for a baby boy's life. Reciting this chapter as a form of supplication can bring several benefits:
1. Protection: It invokes God's protection upon the child, shielding him from harm and adversity.
2. Morality: Surah Yusuf imparts moral lessons, guiding the child to grow up with virtues like patience, forgiveness, and honesty.
3. Dreams and Aspirations: It encourages the child to have positive dreams and ambitions, just as Yusuf's dreams led to his greatness.
4. Family Bonds: The surah emphasizes the importance of strong family bonds, fostering a sense of love and unity within the family.
5. Trust in God: Reciting this surah instills trust in God's plan and guidance in the child's heart from a young age.
By incorporating Surah Yusuf into a baby boy's life, parents hope to nurture a righteous, protected, and morally upright individual who embraces positive aspirations and values family bonds. You can find out more benefits of the Surah Yusuf ki Fazilat or Surah Yusuf ke fayde in Hindi from our Islamic Scholar. 
Other Useful Articles-