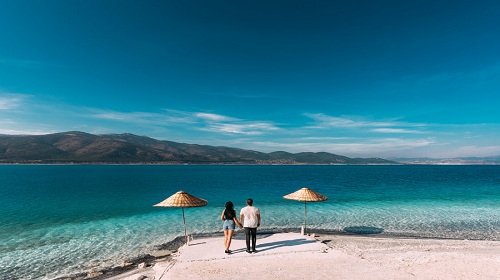 Marriage in itself is the biggest blessing of a person's life. The importance and sacredness of duas for marriage can add to your ceremony, acknowledging the holiness of the union. This is also done for including Allah Taala in your special day. The dua for blessings in marriage is a prayer that should definitely be performed by the couple.
Marriage is a long, twisting journey filled with unseen moments of joy and sadness, hope and heartbreak. Whenever a couple is going through a marital strain, the prayer for marriage blessing helps them pull through the difficult situation. This dua for blessings in marriage helps them strengthen their bond and makes their marriage stronger.
Dua For Blessing and Protection

Marriage is a very delicate relationship. A couple needs to work together as a unit to always protect their marriage. Now you might think what is the need for marriage protection? All of us have both good and bad people. Good people always wish for the happiness of the people around them. On the other hand, there are people who get jealous of other's happiness. To prevent getting affected by the evil eye of such people, you need the dua for blessing and protection of marriage.
Dua for blessing and protection can also be used by married couples on a regular basis. With the help of this dua for married couple, couples ask Allah to always grace their marriage with love and happiness. This prayer or dua for marriage protection is very helpful in keeping away all the problems from their married life. Even if some problems arise, this prayer gives the married couple the strength to get rid of them.
Dua to protect marriage is also very effective in preventing divorce. Couples often choose the path of separation when they feel that the issues in their marriage have become unsolvable. To avoid this separation from happening, this dua for married couple is highly effective.
"Baraakallahu lakaa, waa baarakaa 'alaykaa, waa jama'aa baynakuma fi khayreen"
The English translation of this dua for married couple is: May Allah bless you, and shower His blessings upon you, and join you together in goodness forever.
Dua To Protect Marriage

Are you looking for a solution for early marriage? Do you want to seek Allah's guidance in finding your life partner? To find the perfect life partner and to do marry to them, the dua for blessed marriage is the best solution.
There is nothing wrong with a man or a woman asking Allah to make it easy for them to marry a particular person. When a man or woman makes a supplication before Allah to find the most righteous life partner for them. The dua for blessed marriage is definitely a good solution. For people who are fortunate to marry a righteous person must recite the dua to protect marriage.
Related Post: Surah Rahman Ka Wazifa For Marriage
Let us now explain to you the process of performing dua to protect marriage step by step.
First, perform ablution and sit in a quiet corner to pray.

Recite Bismillah 19 times first from

Quran

.
Then read the 129th verse of Surah Tauba 1100 times.

Read Durood Sharif 100 times.

Recite Bismillah 19 times in the end.

Continuing this process of prayer for 41 days continuously will make the marriage procedure quick and fast.
If you know someone who is struggling in taking the decision of marriage, please suggest them this prayer. This prayer is the perfect Islamic way for someone who is looking for a perfect life partner. If you want to know more details about this prayer, you can call our Maulvi Sahab. You can also directly get the solutions for all your personal problems any time on Instagram.